Today, we're gonna talk about burgers that are bigger than your dreams!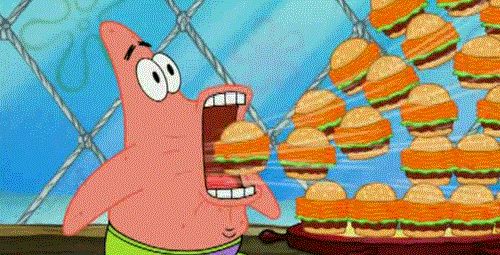 Especially the ones that absolutely make you go NUTTTTTTSSSS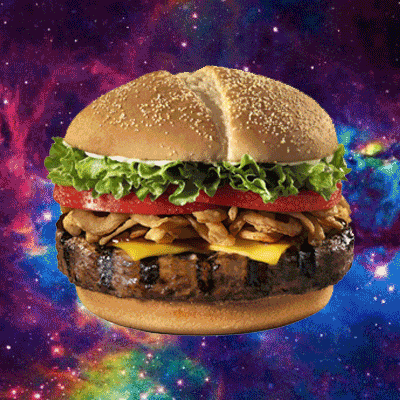 Burgers that are exploding with flavors, dancing in cheese and especially whose sight make your eyes wide open… CRAZY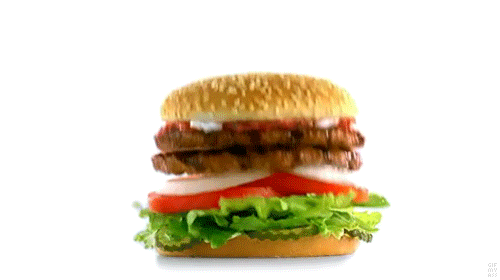 We are talking about burgers having multiple layers of meat, swamping with cheese and yes, calories amounting to 1000s. These burgers might be consumed to fulfill a never-ending appetite or satisfy an urge.
On a very interesting note, you would ideally go crazy over the tempting sight of it; most importantly, you would think of a hundred ways of eating it and eventually, marvel at the glory of having it gulped down, resting in the stomach.
Thanks to the insane amount of foodies in this world, we have come a long way accomplishing foodie goals which is why we are going to round-up some of the giant burgers this world has seen; including the biggest burger, we have seen in Pakistan. So, let us explore some really giant burgers from different parts of the world…
1. Fergburger from New Zealand
Termed as the best burger in New Zealand, this one comes in an exuberant size. While it's only a double-double, it would really require you to open your mouth really wide for a bite.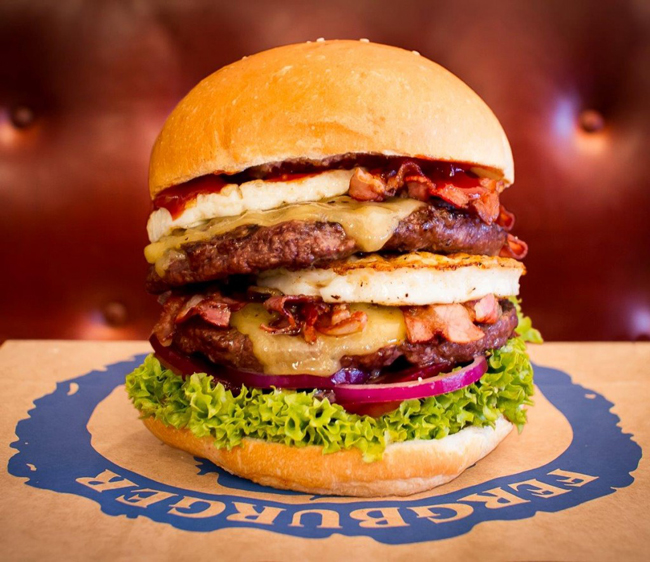 On a very interesting note, this particular burger has over 20 variants – customers are often find confused between choices but it's safe to say this is arguably the best and the biggest burger you could eat on a daily basis in New Zealand.
2. "Quadra Burger" from our very own Burger Lab – have you tried it yet?
Burger Lab has 7 outlets in Pakistan and 3 more to come in the next 2 months. Here, you have 4 Beef patties, 4 cheddar Cheese slices and juicy condiments such as Jalapenos, Beef Pepperoni, Onion Rings and of course, their SECRET LAB SAUCE.
Sorry guys, I couldn't take a better picture. It doesn't really show the actual "greatness" of this bad boy.
An interesting thing about Burger Lab is that they take the concept of "Lab" seriously. Nothing is pre-cooked; everything's made to order, which is why it takes time for your order to be served. Besides, they seem to be always on the look for experimenting new things, surprising customers with their innovative approach. First, we had Doppler – a burger with 2 Chicken Fillets with Double Cheese and now, they present you Pakistan's Biggest Burger –  The Quadra.
3. This one's called a "Proper Burger" and it's from Washington D.C.
A lot of thought process is put together to make a proper, "Proper Burger". It's quite famous in the capital of the United States for the all right reasons. Why is it special and why did we have to include it on our list? Especially when it's just 2 patties, onions, ordinary lettuce and a fried egg on top?

Thing is… this particular burger holds the reputation of being the juiciest burger in all of America. It's the reason why people are always coming back to this chain just to have this burger. According to them, they haven't tasted anything like the Proper Burger. Wow!
4. This burger from Pune, India looks ugly but rose to fame for a number of reasons
Our noisy neighbors were up to some really crazy stuff lately. A burger challenge ignited in India, where you had to finish giant burgers. This one especially caught our attention and we managed to compile it in our list.
It's called "WTF" burger and it's a big sensation across the border. Look at it; not a pretty sight!
The challenge was about finishing this whole burger in 15 minutes. If you somehow succeed, you will have a portion of fries, a strawberry shake plus a photo on "the wall of fame" for free. That's quite unreasonable, actually because who would want to have fries after eating chunks of coleslaw.
5. "Maharaja Burger" from Australia inspired by desi culture
The "Maharaja Burger" in Australia is inspired by a desi cultural tiding. Well popular among South Asians, this burger comes nothing short of amazement. You do not have out-of-this-world ingredients; it's relatively cheap and considered a run-of-the-mill in taste. However, it's popularity is mainly due to the "corn patty" between Chicken and  Cheese.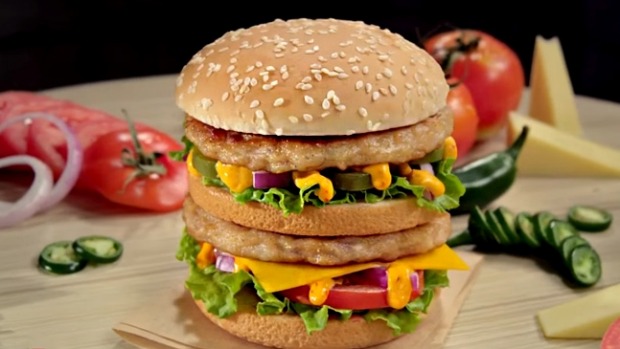 Wah bhaeee, wah!
6. After some "Proper", "Quadra", "Maharaja" burgers, brace yourselves for "Epic Burger" from Brazil
What the heck is that?
Who makes a burger like that? I mean, they should know that burgers are supposed to be eaten. It's piled up with everything greasy, henceforth, got the name "Epic". You really need an epic appetite for this one. But one thing is really off-putting about it… In case you noticed the runny egg topping, nobody would want that to scramble on that taste the on the first bite.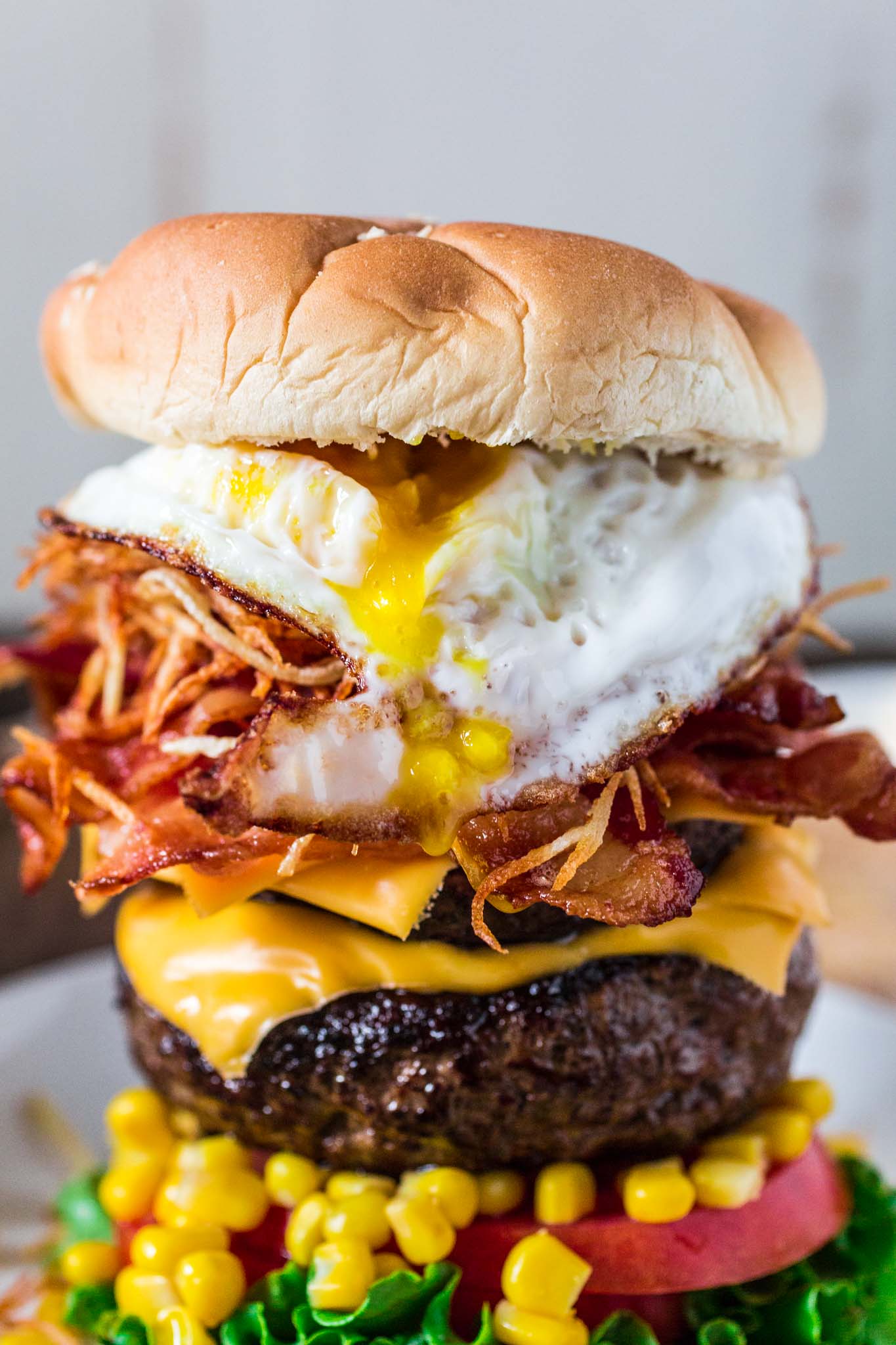 It has corns, regular beef patties and lots of Cheese. Nothing really exciting ingredients. However, we are sure a lot of creativity has been put together to make this "epic" burger. This proves these people are a bunch of foodies that they come up with such insane stuff.
Man, I'm hungry now. The closest to me is obviously Burger Lab; are you thinking what I am thinking? 🙂