The fruit that all of us wait for very patiently is finally here. "Aam" logoon ka sub sey favorite fruit, the king of fruits is here, it's the Mango season!! Here are some quick and easy recipes guaranteed all the mango lovers will enjoy!
1.Mango Cheesecake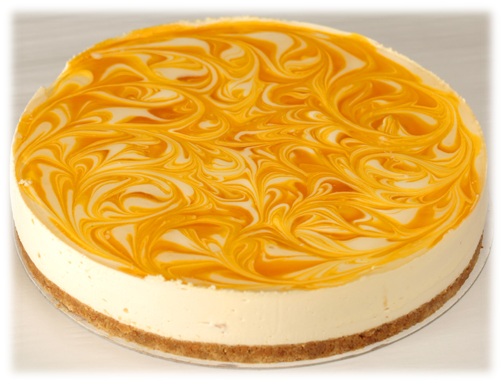 Ingredients: 
Crust
1 1/2 cups graham cracker crumbs
1/2 cup sugar
6 tablespoons (3/4 stick) unsalted butter, melted
Filling
3 large very ripe mangoes (each about 13 ounces), peeled, pitted, coarsely chopped
3 8-ounce packages cream cheese, room temperature
1 1/4 cups sugar
2 teaspoons vanilla extract
4 large eggs
Sliced peeled pitted mangoes
Method:
For crust:
Preheat oven to 325°F. Lightly butter 9-inch-diameter springform pan with 2 3/4-inch-high sides. Stir cracker crumbs and sugar in medium bowl to blend. Add melted butter and stir until evenly moistened. Press crumb mixture firmly onto bottom (not sides) of prepared pan. Bake until crust is set, about 12 minutes. Cool completely. Maintain oven temperature.
For filling:
Puree mangoes in processor until smooth. Set aside 2 cups mango puree (reserve any remaining puree for another use). Beat cream cheese, sugar, and vanilla in large bowl until smooth. Add eggs 1 at a time, beating well after each addition. Add 2 cups mango puree and beat until well blended. Pour filling over crust in pan.
Bake cake until set and puffed and golden around edges (center may move very slightly when the pan is gently shaken), about 1 hour 25 minutes. Cool cake 1 hour. Refrigerate uncovered overnight. Run small knife between cake and sides of pan to loosen. Remove pan sides. Transfer cake to platter. Cut into wedges and serve with sliced mangoes.
2.Mango Bruschetta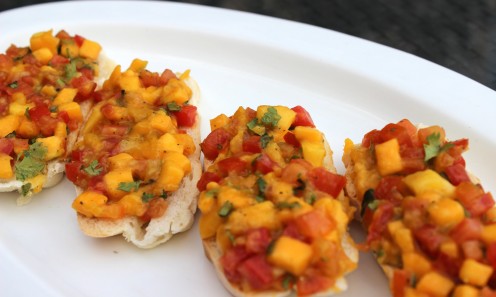 Ingredients:
Mango – 200 gms
Tomato – 60 gms
Basil – 3 gms
Salt – 5 gms
Black Pepper- 2 gms
Olive oil – 10 ml
Garlic – 5 gms
Toasted sliced bread
Method:
Dice the mango and tomatoes finely in a bowl. Chiffonade the basil finely and add to it. Add finely chopped garlic and sprinkle pepper and salt on it. Mix all the ingredients in olive oil. Place the mixture on toasted bread and serve.
3.Spicy Mango Salsa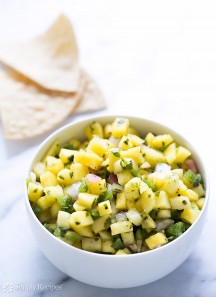 Ingredients: 
Method:
In a large bowl, mix together the mangoes, peaches or nectarines, garlic, ginger and basil or cilantro. Add the chilies and lime juice to taste; mix well. Allow chilling 2 hours before serving.
4.Mango Lassi Frozen Yogurt
Ingredients: 
2 cups canned

mango pulp (see note above)

1 cup 

plain whole milk yogurt

1/2 cup 

half and half (12.5%) milk

1/4 cup + 2 tbsp 

white sugar

1 tsp 

rosewater (optional)
Method:
Place all ingredients in a blender or large bowl and blend/whisk until smooth. If necessary, chill the mixture until super-cold and give it one last whir/stir. Pop chilled lassi mixture into your ice cream machine and freeze according to the manufacturer's instructions. Once it's done in the machine, transfer frozen yogurt to a freezer-safe container and freeze until it's firmed up to your liking (this might take a few hours). If the frozen yogurt freezes quite hard, give it a few minutes to warm up before you start scooping.
5. Mango-Mint Limeade
Ingredients:
1 pound bag frozen mango, thawed, or 3 cups fresh mango, peeled, pitted, and cut into large chunks
1 cup turbinado or raw sugar
1 T grated lime zest + 1/2 cup juice from 4 to 5 limes
10 green cardamom pods, lightly crushed with the back of a knife
1 cup loosely packed mint (basil or a combination of mint/basil can be substituted))
Sparkling water
Thinly sliced limes and mint for garnish
Method: 
In a bowl of a food processor, combine mango and lime juice and process until smooth, about 1 to 2 minutes. Strain through a fine-mesh sieve into a bowl, pressing down and scraping back and forth with a spatula to extract as much of the mango-lime juice as possible. Also, make sure to scrape the underside of the strainer into your bowl — just make sure you rinse your spatula first! You should have about 2 cups of mango-lime juice. Chill until ready to use.
To make the mint simple syrup, combine the sugar, 1 cup water, lime zest, cardamom pods, and mint in a small saucepan over medium-high heat. Bring to a boil, then lower heat and simmer for about 10 minutes or until a thin syrup forms. Pass the syrup through a strainer into a bowl or measuring cup. You should have about 1 cup of mint simple syrup. Chill until ready to use.
When ready to serve, combine the chilled mango-lime juice and mint simple syrup in a 1.5 quart or larger pitcher. Stir to combine, then add sparkling water. I find about 4 cups to be right but add more or less to get the dilution you prefer. Pour into glasses filled with lots of ice. Garnish with lime wedges and mint.
Do you have some amazing Mango recipes? Share with us in comments