Like any other mother, I suffer from the stress of my children not eating enough vegetables. I have to admit my children are picky eaters and my meal times are tough, to say the least. I am on a constant search for easy and healthy vegetable recipes. With the winter in full swing, soups make a hearty and warm meal. Today I share a healthy and easy cauliflower soup recipe. It is super quick and takes less than 40 minutes from emptying the grocery bags to steamy sipping.
Did you know that cauliflower is a superfood? It is considered one of the healthiest foods on earth. There is a vast amount of research on its benefits to fight off cancer, heart disease, brain disease, and even weight gain. Cauliflower is a member of the cruciferous vegetable family- along with broccoli, cabbage, kale, and brussel sprouts. Cruciferous vegetables are excellent sources of natural antioxidants, essential vitamins, carotenoids, fiber, soluble sugars, minerals, and phenolic compounds. Further cauliflower is low calorie. 100 grams of cauliflower has only 26 calories. Hence cauliflower soup is the perfect meal for a healthy and low-calorie diet.
Did I mention that the soup is delicious? Have it with some toasted pita bread or a piece of naan. It is warm and comforting; just the ideal thing for a winter evening. I am happy to share that my kids liked the flavor. The trick was I didn't tell them it was cauliflower soup. I even cooked this for a dinner with friends, I had them raving about the soup.
Cauliflower Soup
Serving size: 4 to 6 people
Ingredients:
2 tablespoons olive oil or vegetable oil
1 onion, finely chopped
1 tablespoon curry powder*
1/4 teaspoon turmeric powder
600g cauliflower, stalk removed, florets roughly chopped
1/2 liter milk
1/2 liter water
2 vegetable stock cubes
1/2 teaspoon ground black pepper
2 teaspoons lemon juice
1 tbsp chopped fresh coriander or parsley leaves, for garnish
Method:
In a nonstick pan heat 2 tablespoons of the olive oil on medium heat.
Add the chopped onion and fry for 3 minutes. This is to make onions soft and translucent. Do not brown the onions.
Add the curry powder and fry for 1 minute so that spices become fragrant in oil.
Add the cauliflower florets to stir-fry for 2-3 minutes till well coated in the spices.
Pour in the milk, water, and the vegetable stock cubes. Bring the mixture to boil and reduce the heat and cover the pan. Let it cook for 20 minutes or till cauliflower florets are tender.
Wait for 5 minutes to let the soup cool off and then with a hand blender or in a glass jug blender blend the soup. Be careful it is hot.
Taste the soup and add salt if required (mine needed 1/4 teaspoon more). Season with freshly ground black pepper, add 1/4 teaspoon to give the soup an aroma.
Serving Suggestion: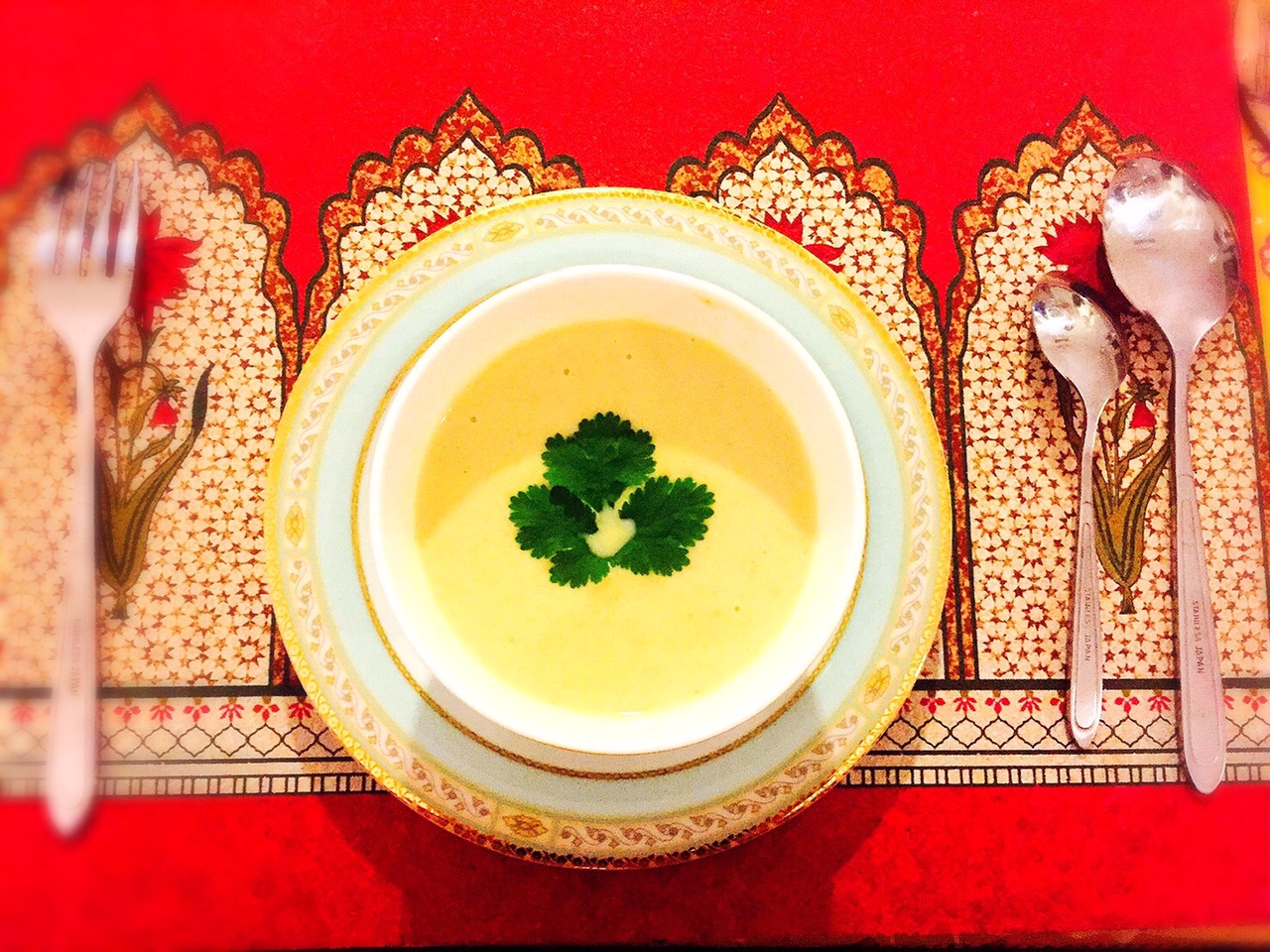 Before serving add lemon juice, pour into a bowl and garnish with coriander or parsley. Serve with toasted pita bread or naan.
Note: The soup is meant to have a thin consistency like a clear soup. This makes it delicious and light. If a thicker soup is preferred please cook the blended soup for further 5-10 minutes.
*To make curry powder mix the following ingredients:
1 tablespoon cumin powder
1 tablespoon coriander powder
1 teaspoon red chili powder
1/2 teaspoon turmeric powder
1 1/2 teaspoon salt
Mix well in a bowl and use 1 tablespoon of it for the soup. Keep the leftover curry powder for use later, in the Chicken curry perhaps.
Happy cooking!